EXPERTISE. COMMITMENT.
RESPONSIBILITY.
Know-how in revision arthroplasty.
Effectively combining technical expertise, thinking progressively, and thinking outside the box – these are the principles according to which Heraeus develops solutions for arthroplasty and trauma surgery. With the COPAL® product range for revision surgery, Heraeus is continuing this approach: the result is a specialised product portfolio for the stringent requirements of revision surgery that offers the proven characteristics of PALACOS® bone cement. COPAL® products allow the risks associated with revision surgery to be successfully mitigated, as well as meeting the need for responsible use of antibiotics.
COPAL® G+C
Effectiveness in revision surgery.
COPAL® G+C is a high-viscosity bone cement for anchoring prosthetic implants in revision surgery. It contains the antibiotics gentamicin and clindamycin. This combination offers a broad spectrum of activity against around 90% of clinically-relevant pathogens. Clindamycin specifi cally targets
anaerobic pathogens and offers a high degree of bone penetration.
COPAL® G+C supports a very high initial local concentration of antibiotics. This means that a build-up of resistance can be minimised. The result is effective protection of the prosthetic implant against bacterial colonisation and the formation of biofi lm, with minimal systemic exposure for patients (2).
RELIABLE ACROSS THE BOARD
Due to the combination of gentamicin and clindamycin, COPAL® G+C meets the requirements for an effective revision surgery concept. The use of COPAL® G+C for prevention of infection is also recommended in the cases of
revision surgery procedures that are considered aseptic in which the risk of late infection as a result of slow-growing pathogens (known as low-grade infection) cannot be completely excluded (3).
SIMPLE TO USE
COPAL® G+C offers consistent quality due to industrial production. COPAL® G+C supports an effi cient workflow as well as the minimization of the potential for errors.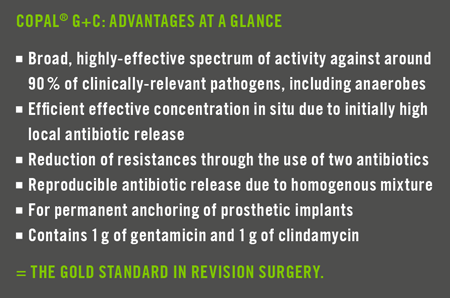 COPAL® G+V
Effective against proven MRSA/MRSE*.
Prosthetic implant infections caused by MRSA result in an increased rate of complications as well as higher costs in comparison with prosthetic implant infections that are not MRSA-related (4).
PREREQUISITE FOR SURGICAL SUCCESS:EXACT DIAGNOSIS
Due to increasing resistances, the reserve antibiotic vancomycin should only be used following exact diagnosis and microbial identifi cation of the pathogens. The use of COPAL® G+V to prevent infection is only recommended in the case of proven vancomycin-sensitive MRSA/MRSE and thus requires exact microbiological diagnosis.
PREVENTION OF INFECTION IN SEPTIC REVISION SURGERY
COPAL® G+V is a high-viscosity bone cement for anchoring prosthetic implants in the case of septic revision surgery procedures with proven vancomycin-sensitive MRSA/MRSE. It contains the antibiotics gentamicin and vancomycin for the prevention of infection. This combination of antibiotics specifically targets vancomycin-sensitive MRSA/MRSE in the case of bone and joint infections.